Go into YOUFA Creative Park
Go into YOUFA Creative Park
Youfa steel pipe Creative Park is located in Youfa Industrial Park, Jinghai District, Tianjin, with a total area of about 39.3 hectares. Relying on the existing factory area of the first branch of Youfa Steel Pipe Group, the scenic area features steel pipe manufacturing and is divided into four sections:"one heart, one axis, three corridors and four blocks".
There are many scenic spots in the scenic area, such as Youfa Cultural Center, Steel Pipe Lion, Steel Plastic Art Sculpture, Picturesque Corridor of Rivers and Mountains, and Steel Pipe Gallery, forming a visual display of the whole process of steel pipe from production to delivery and then to application, which is an important step for Youfa Group to make the factory like a "garden", to become an industrial tourism demonstration base integrating green production, industrial sightseeing, steel tube culture experience, popular science education and industrial research and practice; on December 28, 2021, Youfa Steel Pipe Creative Park was rated as a national AAA-level tourist attraction.
The first phase|YOUFA Cultural Center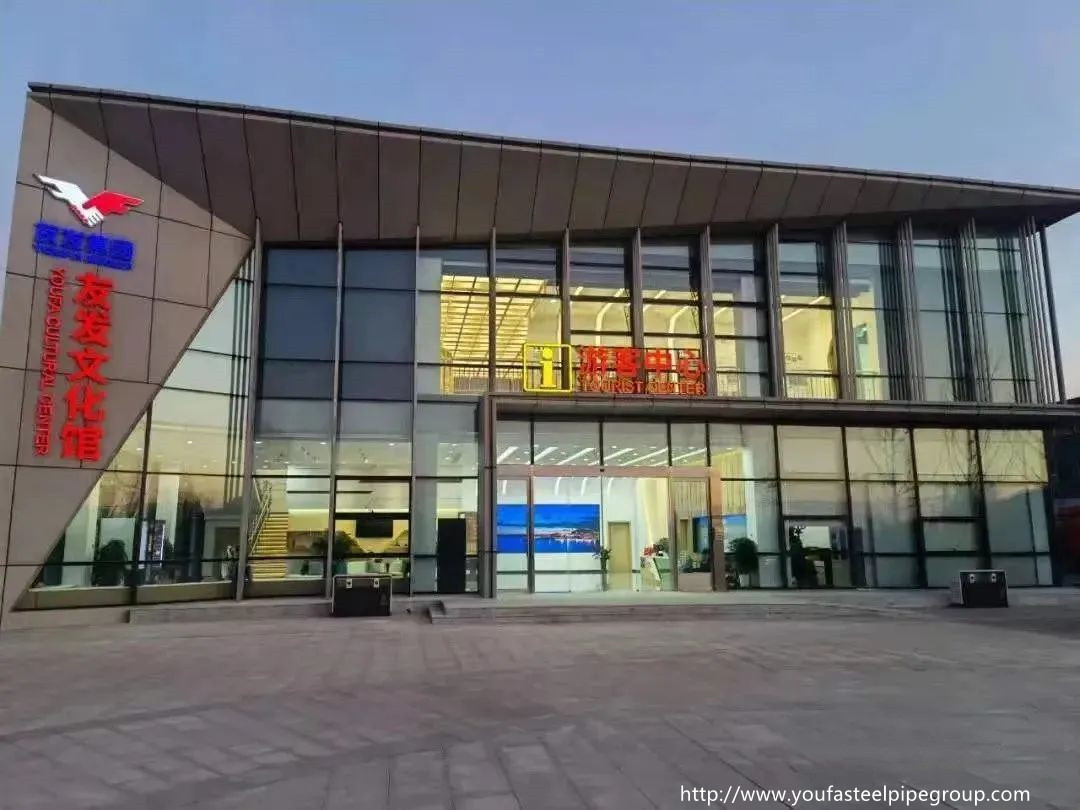 Youfa Cultural Center is one of the important scenic spots to visit. The main structural columns and structural beams of the building are made of square andrectangular welded steel pipes of Youfa brand.
The cultural center takes the Youfa mission of "letting employees grow happily and promoting the healthy development of the industry" as its theme, comprehensively reviewing and systematically sorting out Youfa Steel Pipe Group's continuous struggle for self-improvement, and deeply digging, inheriting and promoting Youfa Group's spirit "discipline ourselves, benefit others , cooperate and forge ahead together", summarizing and fully demonstrating the fruitful results of Youfa Group's hard work.
The cultural center includes "Group Profile", "Leadership Concern", "Party Building Style", "Social Welfare", "Development History", "Corporate Culture", "Core Products", "Quality Control", "Marketing Revolution", "Corporate Honor" and other related sections, with steel pipe elements running through it, showing the industry attributes of Youfa Group.Through physical objects, models, pictures, text, multimedia and various display forms, using modern high-tech sound and light image display technology, from a new perspective of history and development, the cultural center displays the yesterday, present and tomorrow of Youfa Steel Pipe Group in multiple dimensions and at multiple levels. It has the characteristics of distinct themes, rich contents, detailed materials, and novel forms. It is a cultural symbol and spiritual landmark carefully created by Youfa Steel Pipe Group.
Cultural and creative product area

Youfa Golden Flute: it combines with steel pipe produced by youfa steel pipe group and the local musical instrument culture to create a unique cultural and creative product, making the steel pipe playing music.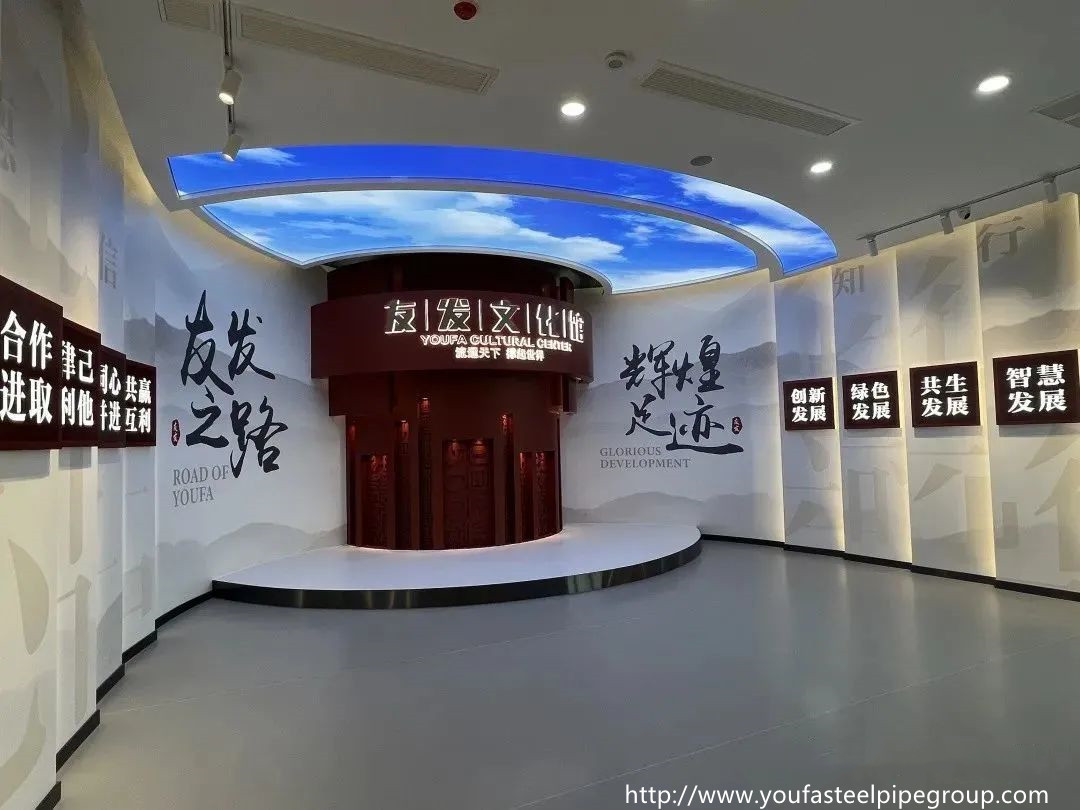 The theme sculpture of "circulating the world, supporting the world" is the main body. The important honors youfa has won in the past 20 years are engraved on the bottom, and the culture and development concept of Youfa are engraved on both sides.It is not only a review of history, but also a good wish for a bright future.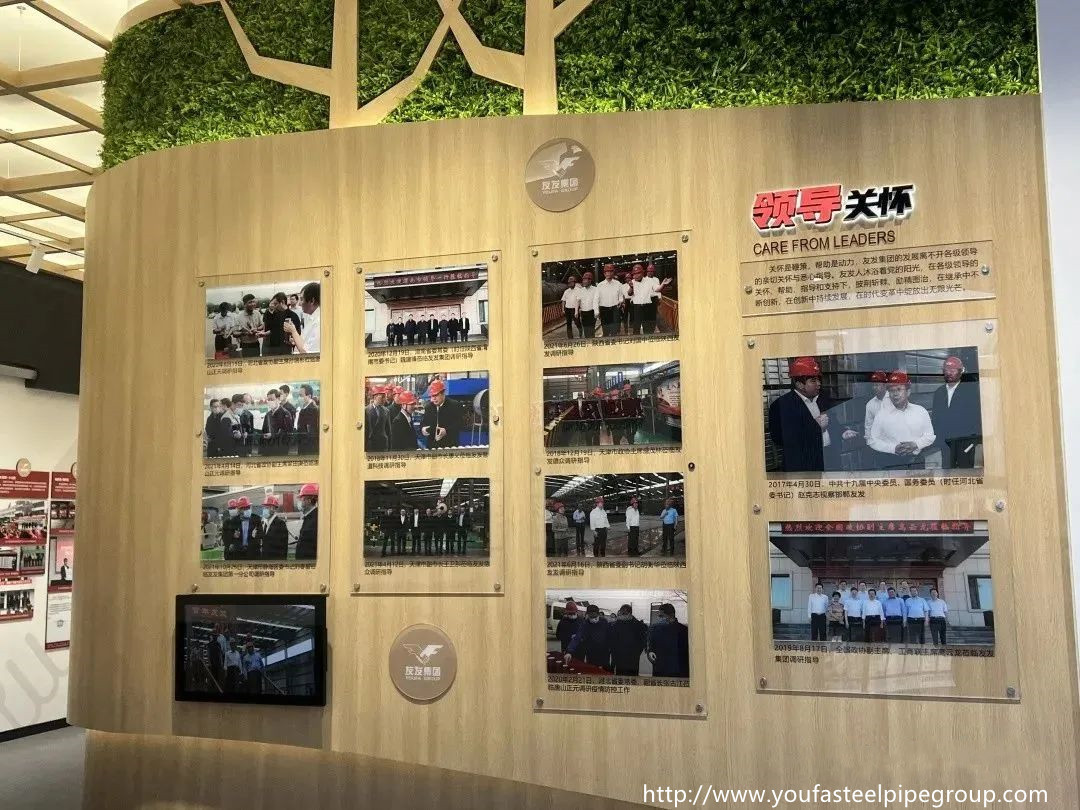 In recent years, youfa's rapid development has received strong support and cordial care from leaders at all levels. Leaders at all levels have visited and guided youfa for many times, which not only points out the direction of youfa's development, but also enhances the motivation and confidence of the enterprise's development.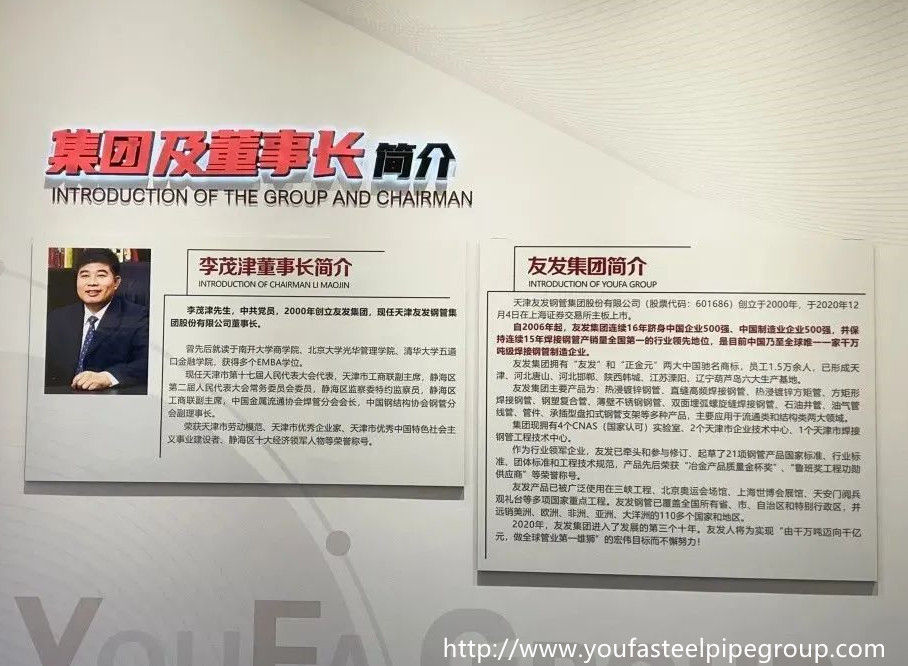 Every step of youfa's development is inseparable from chairman Li Maojin's enterprising ability, leading Youfa from a small scale enterprise to a leading enterprise in the industrygradually.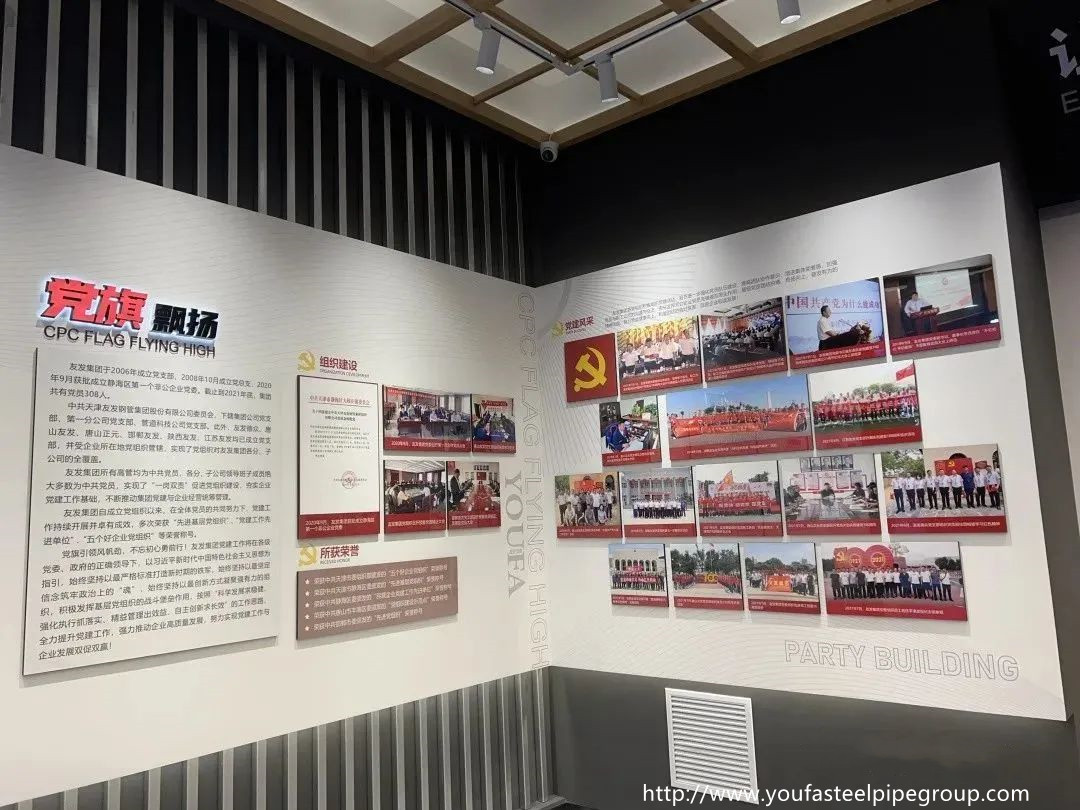 The party's construction is bearing the weight of the ship of enterprise development and employee happiness guiding the goal.
Youfa Steel Pipe Group established the Party branch in 2006 and the General Party Branch in October 2008. In September 2020, it was approved to set up the first non-public enterprise Party committee in Jinghai District.The group currently has 308 party members, all senior executives are CPC members, and most of the leading members of each branch and subsidiary are Party members, realizing the "one post and two responsibilities", promoting the construction of the Party organization, effectively playing the political core and leading role of the Party organization, and laying a solid foundation for the party building work of the Group.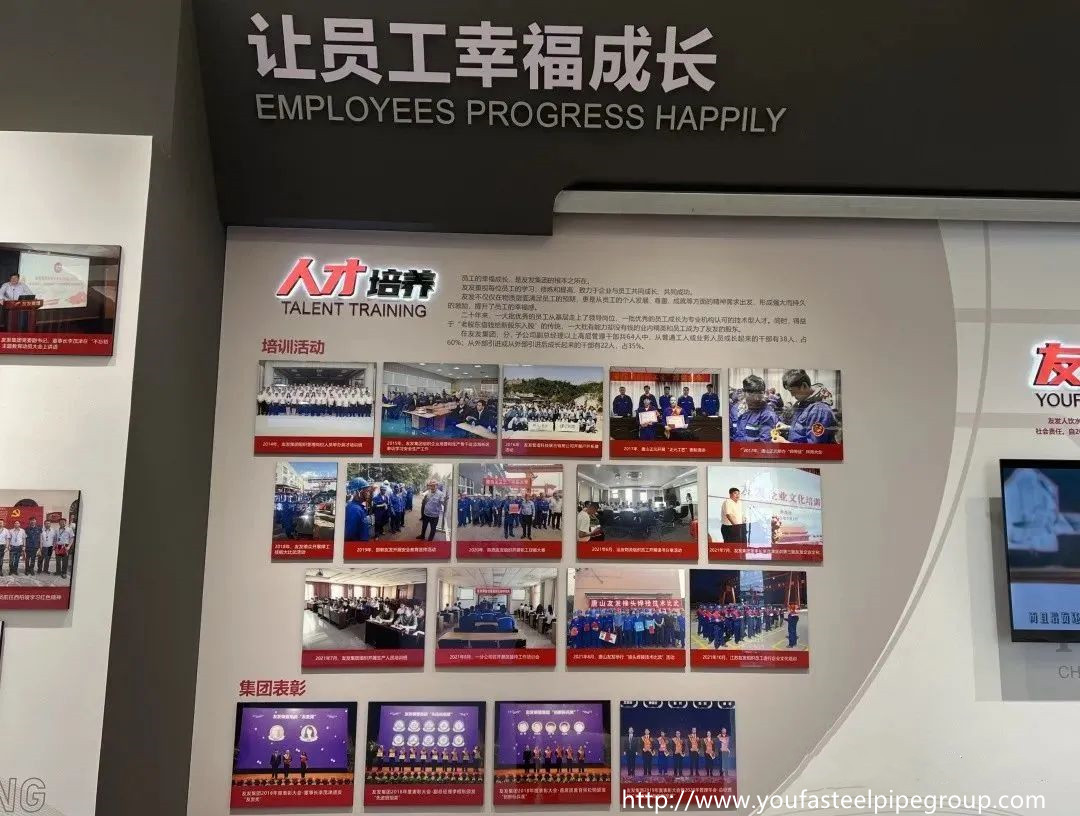 Youfa Steel Pipe Group always regards talent training as the foundation of enterprise development. Through various forms of training, it trains all kinds of talents at all levels in an all-round way, which enables a large number of excellent employees to take leadership positions from the grass-roots level and grow into technical talents recognized by professional organizations.
In Youfa Steel Pipe Group, among the 64 senior management cadres above the deputy general manager of branches and subsidiaries, 38 cadres have grown up from ordinary workers or business personnel, accounting for 60%.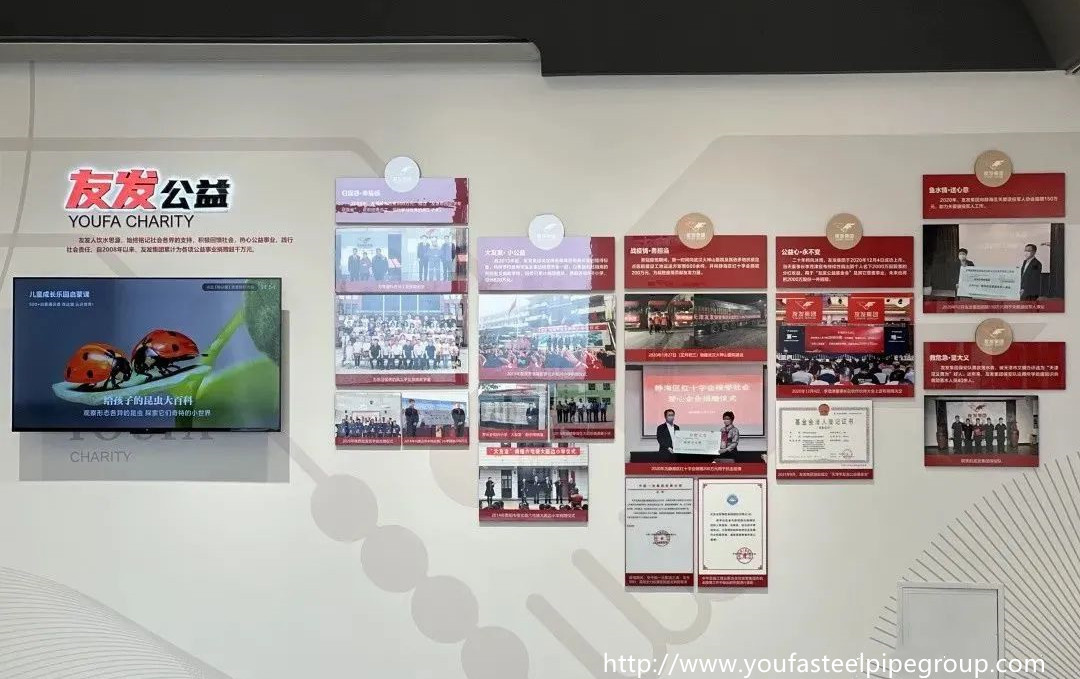 While developing rapidly, Youfa has been actively engaged in social welfare undertakings, and established "Youfa Special Fund for Helping Students in Difficulties", "Youfa Public Welfare Foundation" and other public welfare organizations. The original intention of "caring for love" is to help students and help the poor, to be brave in justice, to donate to fight the epidemic, and to care for veterans. Youfa actively contributes to the society and fulfills its social responsibilities with real love and actions.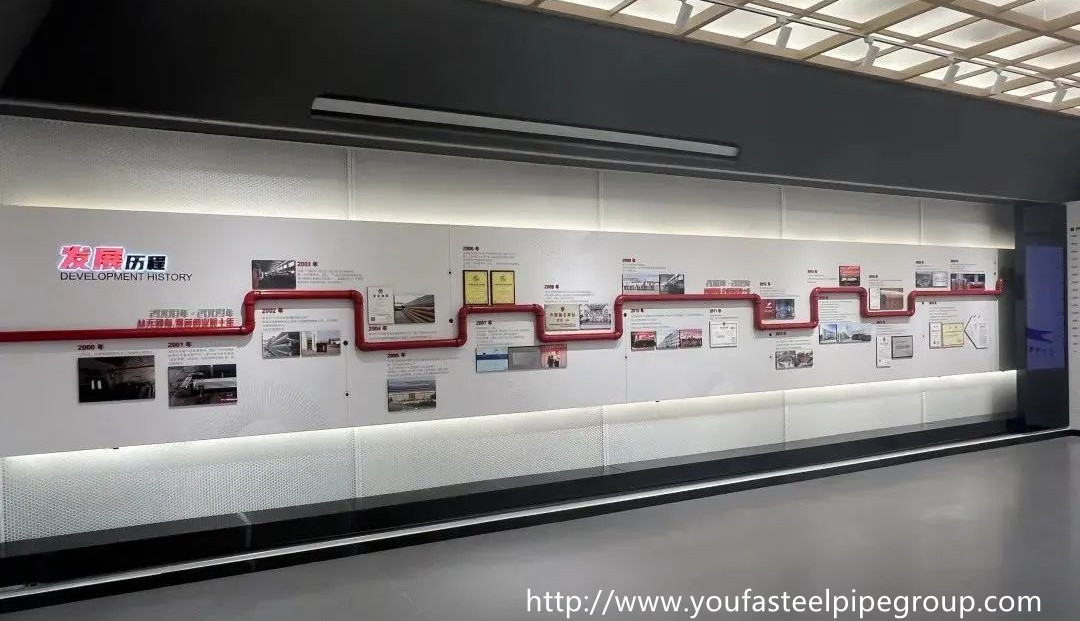 Taking Youfa Steel pipe as the timeline, it shows youfa's 20 years of wind and rain.Production increased 1,577 times from 11,600 tons in 2000 to 18.301,100 tons in 2021.
In the past 20 years, Youfa has grown from a little-known small factory to a leading enterprise in the industry. On the road of continuous struggle, it has gone through three major development stages.
The decade of Hard work of Youfa 2000-2009
2010 -- 2019 Youfa All-around champion of the decade 2010 – 2019
The Decade of YouFA globalization, 2020-2029
In 2020, Youfa Steel Pipe Group was successfully listed on the main board of the Shanghai Stock Exchange. The success of the listing is an opportunity, a pressure, and a challenge for Youfa. In the future, Youfa will take advantage of the wind of listing and develop great plans in the future. , soaring in the capital market, and striving to achieve the goal of " by ten million tons to one hundred billion yuan, and becoming the first lion in the global pipe industry".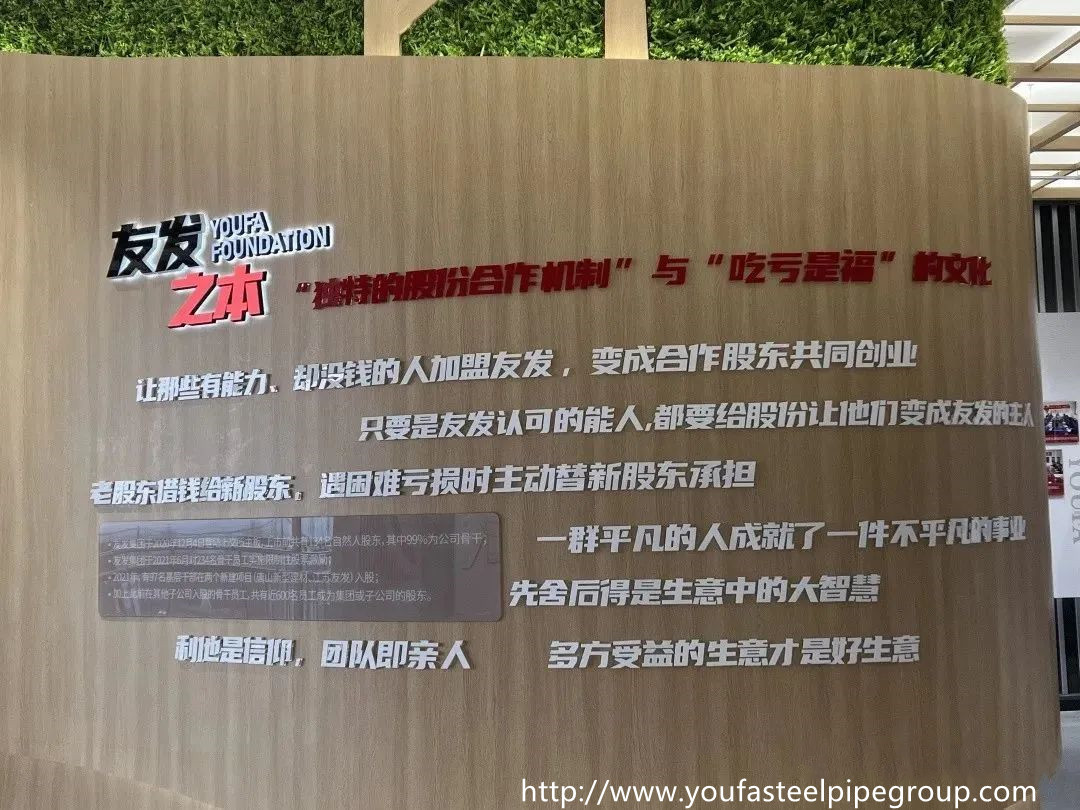 Youfa can develop from a small factory to become China and even the world's only a ten million ton dry - welded steel manufacturing enterprises, the success of the inheritance gene is joint-stock cooperative mechanism of " unique shareholding cooperation mechanism" and "a disadvantage is a blessing" culture, chairman of the board of directors, let those who have the ability to have no money of their own business with Allies, become shareholders of cooperation, joint venture, So as long as youfa recognized talented people will get shares, become the owner of Youfa.
Tianjin Youfa Steel Pipe Group Culture
YOUFA'S MISSION: TO LET ITS EMPLOYEES GROW HAPPILY;
TO PRMOTE THE HEALTHY DEVELOPMENT OF THE INDUSTRYT.
YOUFA'S CORE VALUE:TO BE WIN-WIN WITH INTEGRITY POLICY;TO ADVANCE TOGETHER WITH VIRTUE FIRST.
YOUFA'S SPIRIT:TO DISCIPLINE OURSELVES,BENEFIT OTHERS;
COOPERATE AND FORGE AHEAD
YOUFA'S VISION:TO BECOME A GLOBAL EXPERT OF PIPELINE SYSTEM.
There are no rules and no square circle. The more modern an enterprise is, the more rules and regulations must be followed. Therefore, on the basis of Youfa's culture, we have refined the ten behavioral principles of Youfa, which are the basic principles that Youfa should follow in its future development. guidelines.
Youfa's Ten Principles of Conduct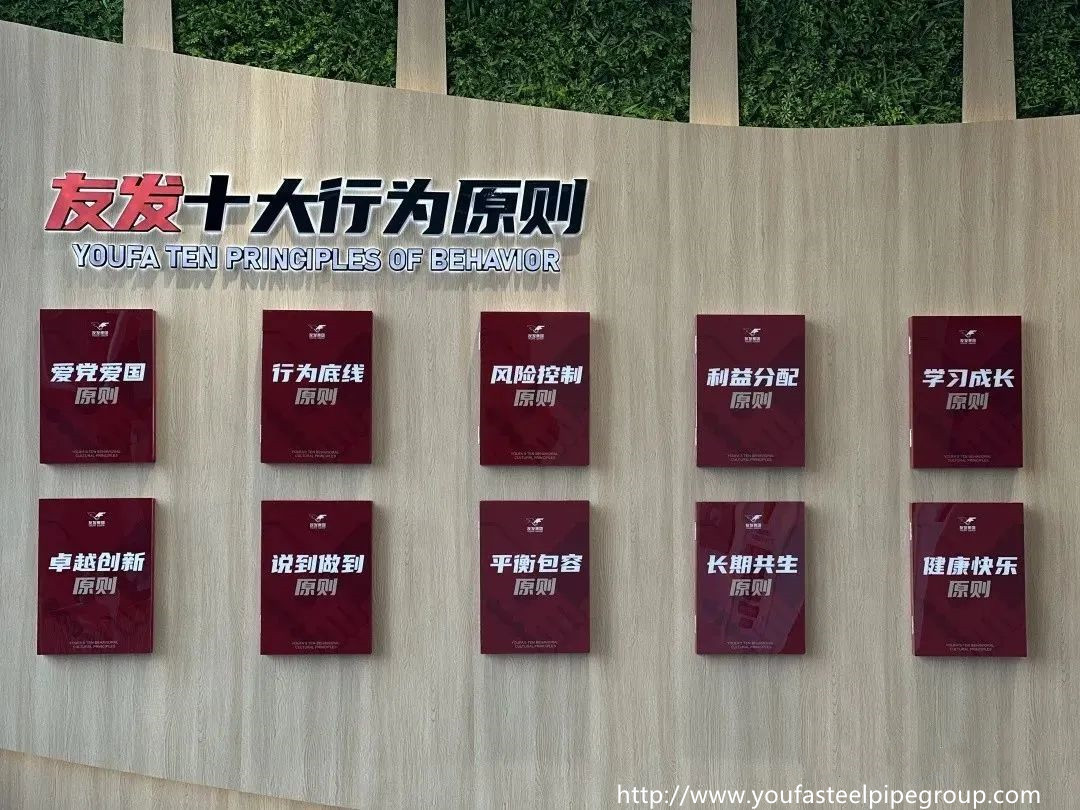 There are no rules and no square circle. The more modern an enterprise is, the more rules and regulations must be followed. Therefore, on the basis of Youfa's culture, we have refined the ten behavioral principles of Youfa, which are the basic principles that Youfa should follow in its future development. guidelines.
Four development corridors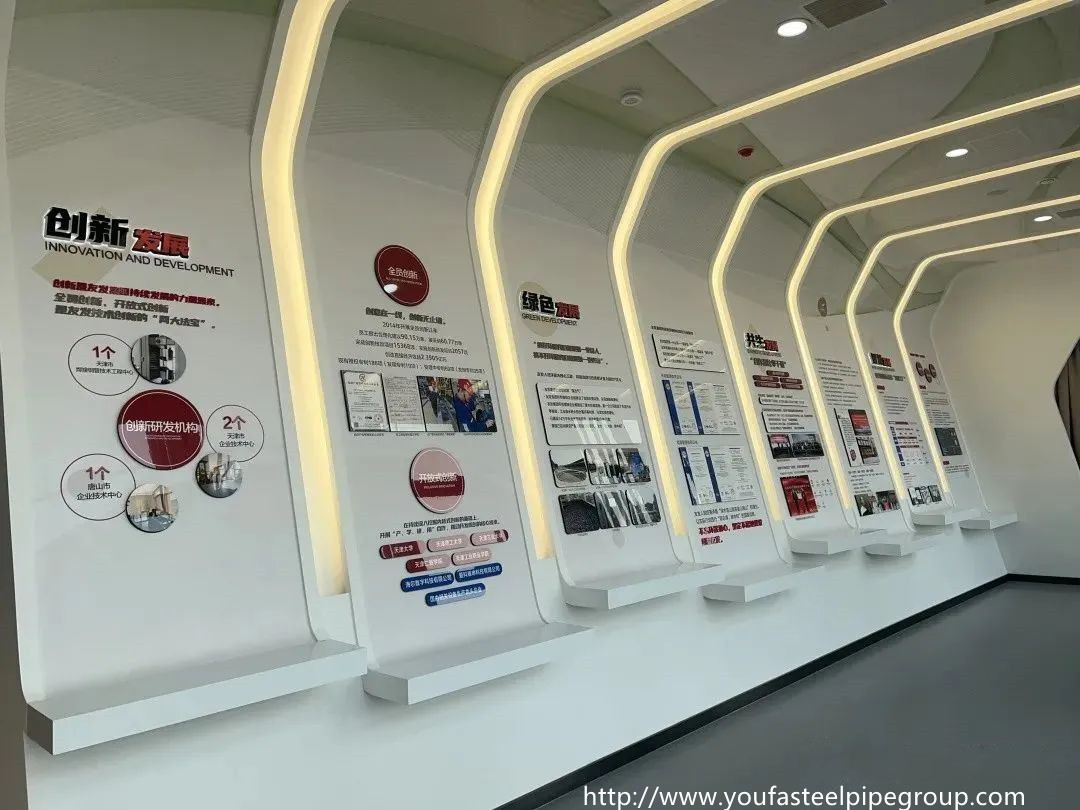 The four development corridors are divided into innovative development, green development, symbiotic development and intelligent development.
Innovative development, we adhere to full staff innovation, open innovation, always believe that innovation is to promote the sustainable development of the power source.
Green development, adhering to the concept of "lucid waters and lush mountains are invaluable assets", regards environmental protection as a conscience project, continues to build ecological factories, and implements the national strategy of "carbon peaking and carbon neutrality" with practical actions.
Symbiotic development, adhering to the concept of "cooperation is always better than doing it alone",to achieve symbiotic development with team members, natural environment, peer enterprises, upstream and downstream industry chain, and the community where the enterprise is located, and continue to promote the healthy development of China's welded steel pipe industry.
Intelligence development,the transformation from the traditional "factory" to "beacon factory "is friend sends several intellectualization development target, friends hope to digital transition, become the fulcrum of move the steel pipe industry progress, for steel pipe manufacturing enterprises use digital technology to cope with changing market conditions, improve production efficiency to provide important reference, a new future construction steel pipe industry.

The main products of the group are hot-dip galvanized steel pipe, ERW Steel pipe, hot-dip galvanized square and rectangular steel pipe, square and rectangular steel pipe, steel-plastic composite steel pipe, stainless steel pipe, spiral welded pipe, oil well pipes, line pipes, pipe fittings, Ringlock Scaffolding System, etc. ,The end-to-end connection of steel pipes produced every week can circle the earth for a week, and is mainly used in two major fields of circulation and structure.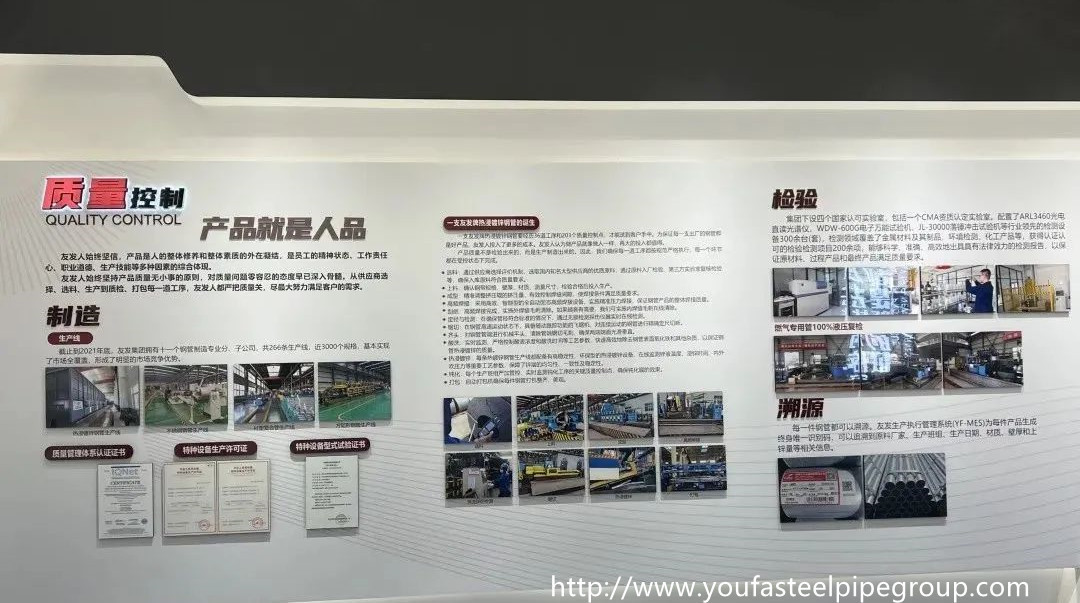 Youfa firmly believes in the quality concept of "product is character", take a youfa brand hot-dip galvanized steel pipe as an example, a steel pipe to go through 36 processes and 203 quality control points can be sent to the hands of customers.From supplier selection, material selection, production to quality inspection and packaging, youfa will strictly control the quality and deliver qualified products to customers.
Youfa steel pipe is widely used in tiananmen Viewing platform, Three Gorges Dam, Jiaozhou Bay Bridge, venues of 2008 Olympic Games, venues of 2022 Beijing Winter Olympics and other national key projects.
Marketing Revolution
Youfa proposed and implemented the marketing upgrade plan in 2013 and became a marketing revolution in 2014.Adhering to the concept of "growing together with customers", we achieve consensus on direction, knowledge sharing, brand co-creation and future co-development.
To create a "yungang" metal cloud business platform, so as to get rid of the low-level marketing model of homogeneous goods that can only rely on price competition to expand the market, from selling goods to selling services, to provide a strong boost to the transformation and development of steel traders.
The 168 smart logistics platform has been established to integrate 150,000 freight vehicles and provide customers with whole-process logistics management services such as transport capacity integration, security guarantee, compliance and cost-effectiveness, and logistics informatization.
In 2016, the Yunyou 168 platform was launched, and it is the first batch of car-free carriers in the country and the first batch of online freight platforms.
Sales territory
In China, Youfa Steel Pipe covers 34 provinces, municipalities, autonomous regions and special administrative regions;
Overseas, youfa steel pipe sells well in more than 110 countries and regions on six continents.
Honor to show
In the course of more than 20 years of development, Youfa has continuously achieved leapfrog development, refreshed historical records, and created legends one after another.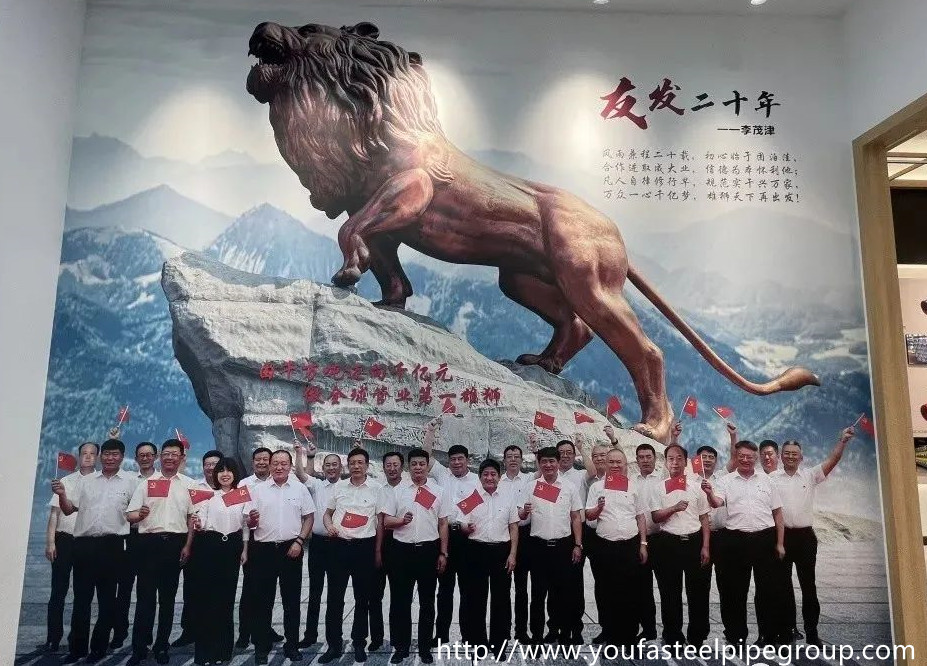 The giant lion represents the grand goal of Youfa to become the no.1 lion in the global management industry. The seven-word poem "Twenty Years of Youfa" written by the chairman of the book, Mr. Li Maojin, is not only a summary of youfa's past, but also a prospect of youfa's future.
Youfa Steel Pipe Creative Park is looking forward to your visit